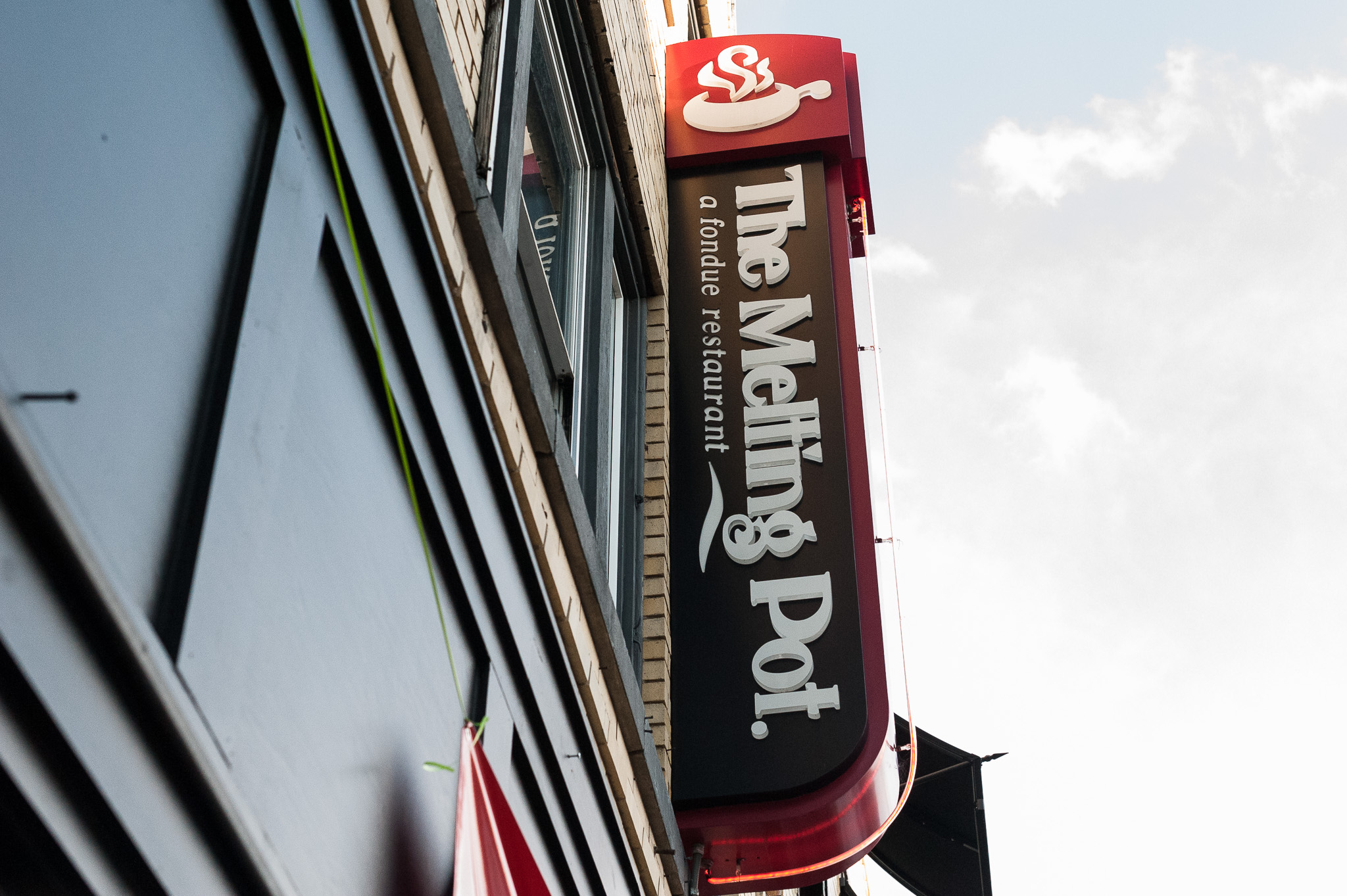 Have you ever had fondue? If you haven't yet tried it, you are certainly missing out. Dipping food goodies into melted cheese and chocolate is out of this world and one of my favorites meals. I grew up often celebrating New Year's Eve with homemade fondue with the family.  For our 16th wedding anniversary, Garrin and I dined at The Melting Pot in Ann Arbor after spending the day at the Art Fair.
The Melting Pot is a chain restaurant specializing in fondue and is a perfect place to celebrate something special.  I have been to assorted locations across the states and the food never fails to impress. This was the third time I visited the Ann Arbor location. This location offers an intimate atmosphere with soft lighting and a fantastic menu selection. We were seated in a booth that was tucked in the back with actually no booth across so there were no other guests in sight which made it extra special.
The table features a burner (or two) as the fondue is prepared in front of you and the burner also keeps it warm while eating. If you attend with another couple, I highly recommend you request the two burner table. It is not automatic for a party of four which is something I was disappointed to learn a previous visit with good friends. The advantage of a two burner table when dining with other guests is the ability to select multiple types of cheese and chocolate to share. The restaurant does take reservations and this is especially a good idea for dining on Friday, Saturday or Sunday.
We selected the 4 course dining experience which is definitely the way to go for dinner. It offers plenty of food starting with the selection of a cheese course, an individual salad choice, assortment of meats with designated cooking style and then the famous chocolate selection for dessert. You may choose to order per person providing a serving of cheese, meat or chocolate for each individual added to the pot. My husband and I generally select per person for the cheese and chocolate courses but share the meat course since this is the part I eat the least amount. Keep in mind this is not a low cost meal and you are likely to spend $75.00+ on the 4 course experience.
Our server, Nate, provided excellent and friendly service and we enjoyed Alpine Cheese, House Salads, Classic Meat and Milk Chocolate for dessert. I have tried and assortment of cheeses and chocolates over the years and have never had a bad one yet. My suggestion is to explore and try them all. You can never have too much fondue!