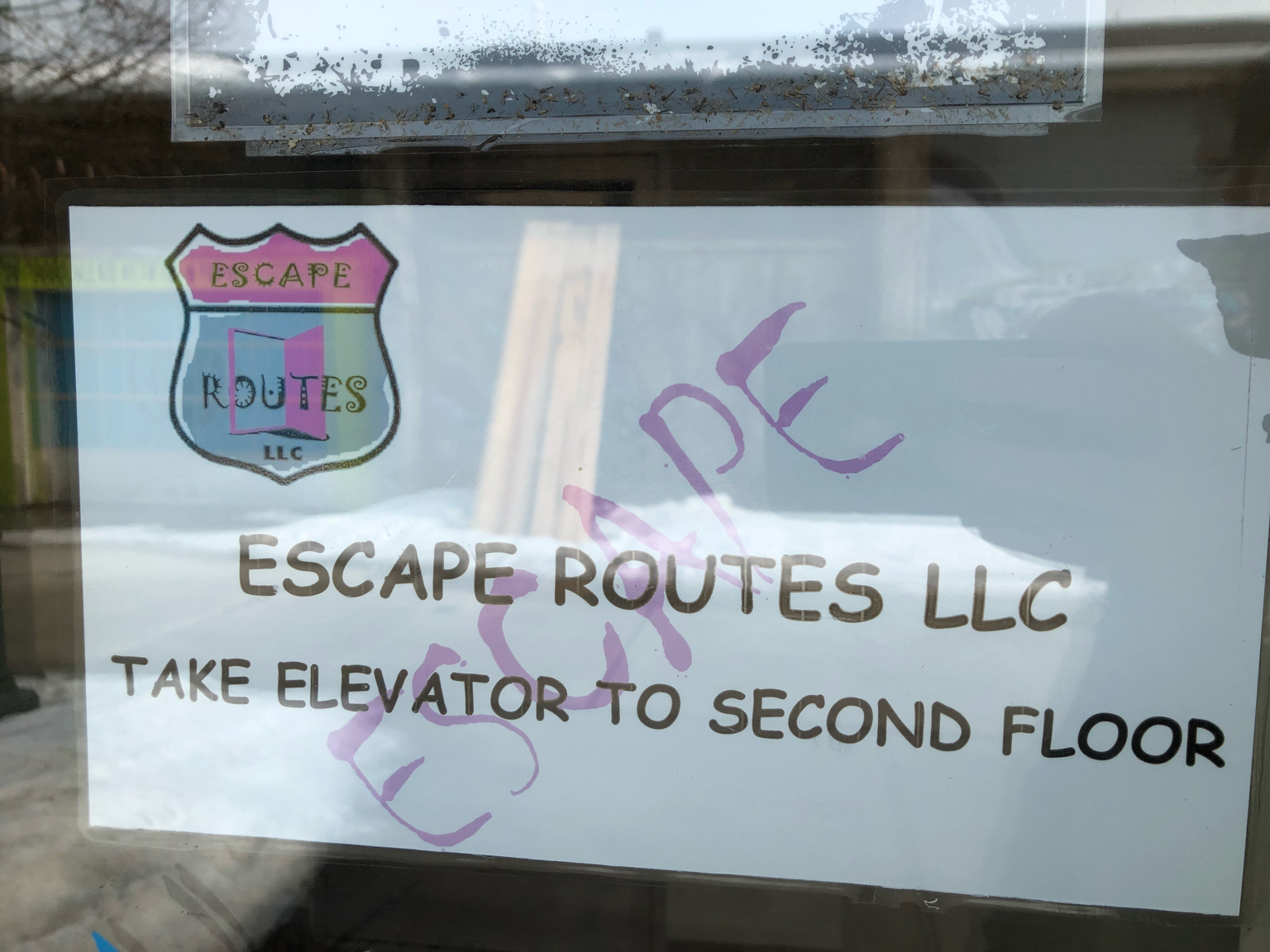 It has been way too long since I have written a blog post which also means that it has been way too long since adventuring. Sometimes life just gets in the way of plans. However, I am determined to bring back fun posts more frequently–starting now!
This past weekend, we headed to Traverse City for our belated Christmas celebration with my Mother-in-law, Denise and family. I am excited to share that we also fit in a small adventure during our travels.  On Sunday, we went to Escape Routes–Traverse City's real life escape rooms.
Escape rooms are a newer craze and my husband, Garrin, went to a work event at a local venue for this activity for the first time this past December.  His adventure was actually in the dark with flashlights and they did not escape the room. I had never personally tried an escape room so I was excited to check out such an activity though I admit I was happy our event was not in the dark.
Escape Routes allows 2-10 participants within the escape room where you have sixty minutes to search hidden compartments, find the clues, solve assorted puzzles and ultimately escape the room!  Each room has a theme.
The name of our room was "Orchestr8 The Exit" and as you may have guessed it was a musical mystery theme. The main goal of our scavenger hunt was to locate the stolen golden record and, of course, unlock the room within the hour.
Things of interest:
A city ordinance did not allow the room to actually be locked (this is not the case at some venues) so there was a lock next to the door that you had to succeed in unlocking to "escape" the room.
Our hostess remained in the room during our hunt, unobtrusively, watching our problem solving skills.
We had 3 secret tickets to locate and we could turn one in to the hostess at any time for a hint helping with puzzles currently in progress.
A large clock counted down the time and certain elements of the room were just for decoration.
Besides Garrin & myself, my mother in law, stepfather in law and fourteen year old adopted sister joined in the fun. We diligently tried to solve puzzles and find clues in this room that was probably 10 by 12 foot. We looked in cabinets, searched furniture, searched books and scavenged the area to locate clues and solve puzzles to unlock many boxes and compartments.
It was challenging and a lot of fun. We DID use all our secret tickets and needed the hints. Ultimately, we DID NOT escape the room within the sixty minutes. However, we were allowed to continue after the time ended and, with the help of our hostess, found the golden record to unlock the lock. It only took an extra 8 minutes.
I would definitely like to try this activity again and it will be interesting to see if we are able to develop "escape" skills with more practice.