One of the things that is great about Michigan is how you can visit neighboring states and Canada all within a short drive. Chicago, Illinois is one of these locations people from the Mitten often visit and I actually had never been.
My husband planned a trip to the Windy City to celebrate my birthday. We picked a weekend a couple weeks after the actual day to see a particular Broadway show. After purchasing our tickets, an odd thing happened and the theatre had to delay the opening by a week. This has never happened to me in all my years as a theatre patron. As all the other travel arrangements were booked and non refundable, we chose to go forward with the trip anyway.
Although Chicago is not a far drive, we decided it would be fun and convenient to take the train. The trip runs around four hours and we opted to upgrade to Business Class for an additional fee. This is definitely the way to go: you are able to board early, you are first to the dining car and of course, your seats have more space! In Chicago's station, you actually wait in a special lounge with refreshments before boarding.
The train's dining car food for purchase is better than airplane food but nothing special. The pretzel and hot cheese was the best thing we tried. I snapped a quick photo from my seat before we debarked East Lansing.
Unfortunately, we ended up traveling during a heat wave with a weather advisory. It was unbelievably hot, almost a 100 degrees, when we arrived. We decided to brave it and walk the mile and half to our hotel from the train station…thank goodness our luggage had wheels!
Chicago building architecture is quite a sight, the old buildings featuring unique carvings that you don't see on the newer towers.
We arrived at the Kimpton Hotel Monaco and were greeted by friendly staff with good news. Due to the stay being in celebration of my birthday and availability, we had received a free upgrade to a suite. This type of thing rarely happens to me and was such nice news from a hotel we had never stayed before. Our suite was truly lovely with a great view.
The suite featured three window seats to admire the view and we spent some time relaxing here during the trip.
Soon it was time to explore The Magnificent Mile, a mile long stretch of shops and restaurants that is reminiscent of the strip in Vegas. We first stopped for lunch at the Grand Lux Cafe. We've always enjoyed dining here in Vegas so it was an appropriate way to kick off the afternoon. I was sad to see the Chicago menu did not feature the coveted strawberry shortcake and hope it is still available in Vegas. We relaxed with refreshments in the air conditioning for a while.
We then explored different shops and boutiques, found some treasures and soon it was time for dinner. I wanted to try The Purple Pig restaurant during the trip so we made this our destination. The restaurant features an extensive cheese board menu which is one of my favorite treats. You could tell it is a popular place as it was crowded with a long wait to dine inside. However, we could be seated on the patio quickly so we decided to brave the heat and eat outdoors. Luckily between the breeze, shade and refreshments, we remained comfortable enough.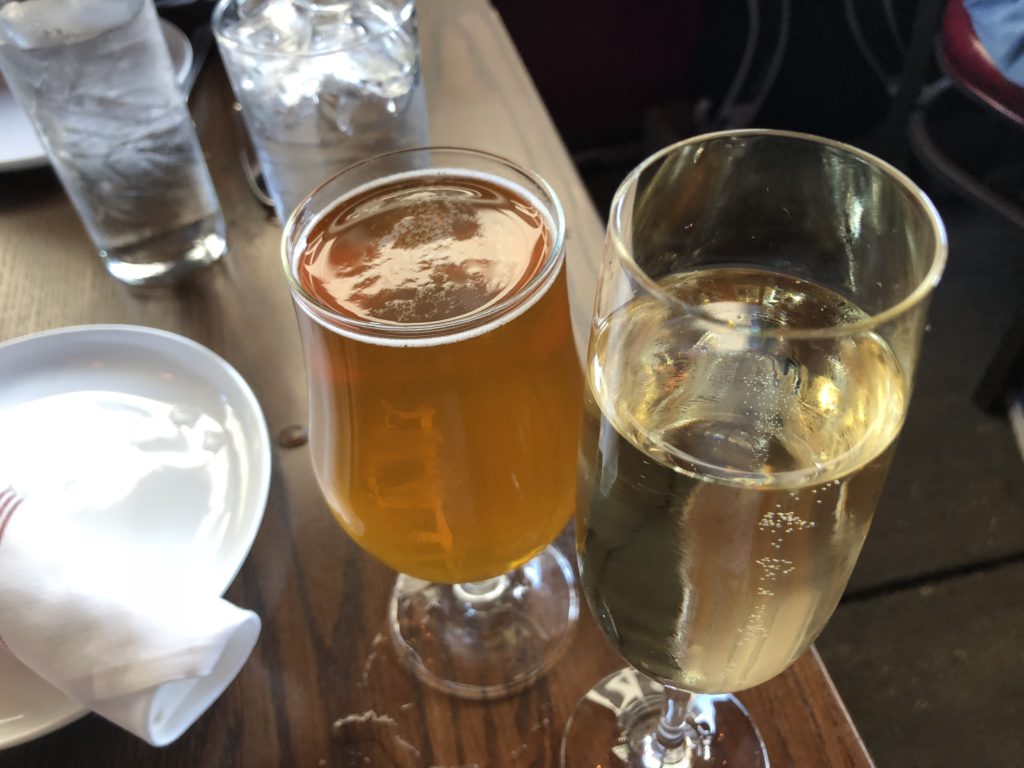 The service was truly excellent and the food delicious. We enjoyed an assortment of cheese including Manchego, my all time favorite. There was a champagne jam accompaniment with the cheese that was something new that we both loved.  We enjoyed a few sharable small plates including Chicken kebabs–so tasty. Unfortunately, we were so hungry that I did not capture any photos of the meal.
On Saturday, we enjoyed brunch at the hotel before facing the heat. Walking towards The Magnificent Mile, we traveled along the river which was quite scenic.
If it had not been so hot, we would have considered a ferry ride on one of the boat tours.
We explored many shops and I took home a new pair of favorite jeans from Rag & Bone. Shopping makes you hungry so we stopped for refreshments at Harry Caray's 7th Inning Stretch.
Next, we walked to Millennium Park to explore the sights. This is quite a large park and there was lots of activity. We had to visit Cloud Gate, also known as "The Bean" due the sculpture's shape. We had to take photos of us at this landmark.
Cloud Gate is made up of 168 stainless steel plates welded together and its highly polished exterior has no visible seams. It is quite large and measures 33 by 66 by 42 feet.
You can actually walk underneath the bean as well but due to the crowds and heat, we decided to keep moving.
We needed to get out of the heat before dinner so we decided to walk to Shedd Aquarium. On the way, we passed by Crown Fountain and then stopped to admired Buckingham Fountain, taking some quick photos.
It was a long walk to the aquarium and we were both hot and tired upon arrival.
There was a long line for tickets as I think everyone had the same idea to escape the heat. Thankfully, it was very cool inside and the line moved at a decent pace. Admission was almost $80 for the two of us, however I have to say this was an impressive aquarium. It is quite large and features many displays of marine life. We watched the dolphins perform tricks for their trainers, and laughed at the cuteness of the sea otters.  My favorite was the penguin display as these creatures are always so cute.
I snapped a few photos and try to capture the one penguin that kept swimming up next to me.
Before the trek back to the hotel, we stopped by the gift shop for a souvenir. We decided to take Uber back to the hotel due to the heat and extensive walk. This was my first Uber experience so another adventure of the trip.
Our final dinner in the city, we decided to try Giordano's for some Chicago homemade pizza. It was a happening place and we waited over an hour for our table. We enjoyed watching the guys make the pizzas through the window.
The restaurant had an interesting system though where you ordered any pizzas in advance due to time they took to prepare. Then once you were seated, your waiter requested any other appetizers or meals desired and the food was served quickly. The pizza was quite good and worth the wait.
After dinner, we adventured to 360 Chicago previously named the John Hancock Observatory. The hotel lobby had this cool ceiling light.
We traveled to the 96th floor and the pressure change actually made your ears pop in the elevator. We were seated at the bar for refreshments.
The view was quite spectacular. The Chicago skyline was quite a sight at the this height at night.
We walked back to the hotel enjoying the city at night.
In the morning, we visited a local pet boutique called Tails in the City to pick up souvenirs for Gucci & Tucker. We found cute scarves with a pattern similar to Burberry (the staff referred to the scarves as "furberry") that were too cute not to purchase. We also walked to the beach and viewed Lake Michigan from another state.
It was a perfect ending to the trip. It is nice that this city is so close to the Mitten and I know we will be back.