The weekend of August 24th, we traveled to Traverse City for our final camping trip of the season. The camper has been at the dealer for maintenance since then and will not be back for another week. Along with Garrin's travel for work this Fall, I just don't think we will be able to squeeze in another trip. Fall camping is on the list for next season though.
I am excited that we may have actually saved the best location this year for the last trip….I always love the Traverse area though this was our first time to the Holiday Park campground. This campground is centrally located and only 15 minutes away from downtown.
Even better, it is on Silver Lake and so very pretty. When I made reservations in May, there were no lake sites available. Due to a little bit of luck and being first on the waiting list–a last minute cancellation opened up a lake view for us.
Our friends, Steve & Kelly had planned to camp with us for the weekend, however when you are eight months pregnant with a popup camper and forecast shows a lot of rain–it does result in happy campers. So unfortunately, our friends passed on the trip. During arrival and set up, it was indeed sprinkling but that did not dampen the beauty of our view.
We loved site 71B and the unique way you parked the camper sideways in the spot…it resulted in waterfront right outside your door.
Gucci and Tucker also loved that there was plenty of grass under their paws around the campsite. Thanks to the Dogger, Gucci enjoyed the view despite the rain too.
Our site featured a unique stairwell and balcony type patio with our individual firepit surrounded by trees.
It was quite special and so peaceful. The view was very beautiful.
The rain did not allow for a fire the first night so we enjoyed dinner, refreshments and then watched movies inside the camper that evening.
The next day was overcast with a chance of rain again when we headed to my mother in law's for lunch. We enjoyed a nice relaxing visit with family. We drove over to Front Street in downtown Traverse City, walked the area and explored the shops before the rain came. I always love exploring the town!
We then returned to Holiday Park which is a fairly large campground with over two hundred sites.
The road back to our site was quite scenic…..
Luckily, the rain passed quickly upon our return to the campground. I took a walk to explore the area. The sites and roads were all well marked and easy to navigate.
There were several small playgrounds in different areas of the park. I thought this was a nice change from a large and sometimes noisy playground area. It also allowed kids to play close to home. I then discovered a really pretty trail for hiking which was a pleasant walk.
I really enjoyed all the lake views during my walk. This campground felt very unique with all the waterfront.
One of my favorite areas this campground offers is the private beach with picnic tables, porch swings, a boat launch and, of course, sand for sand castle building. Due to the rain, I was not able to snap a good photo. I do hope to camp here again and enjoy this beach on a sunny day.
I headed back to campsite due to the weather and besides it was close to dinner time. We enjoyed Rueben sandwiches on the grill which were delicious.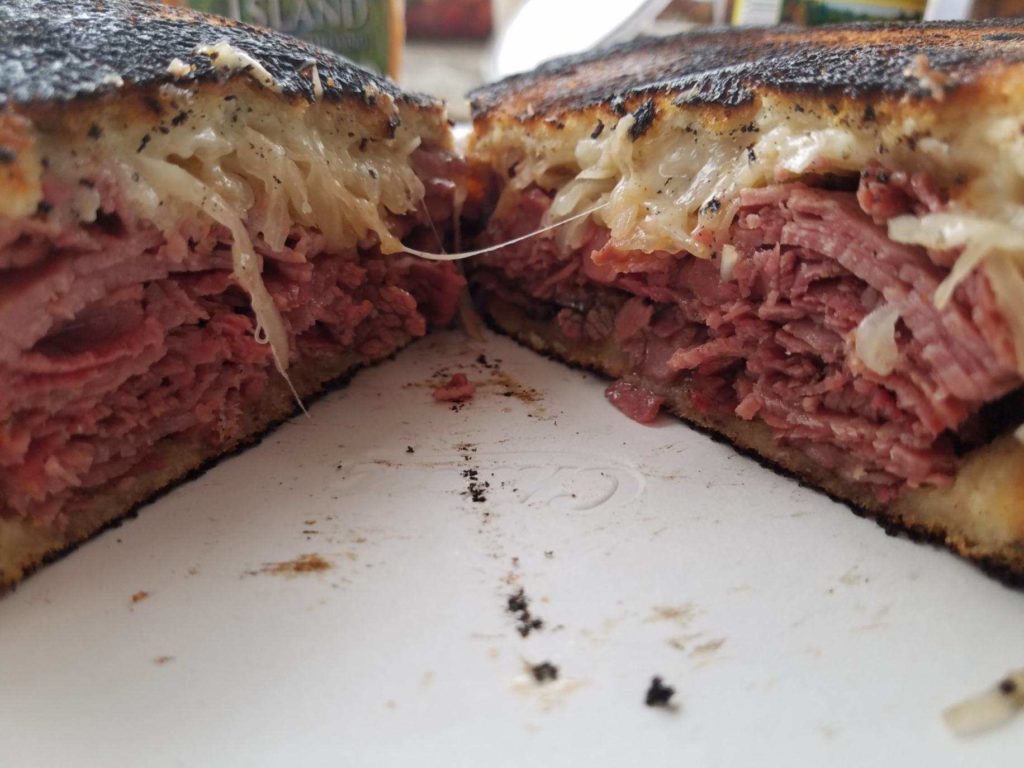 Luckily the rain passed so we were able to sit out on the patio and enjoy s'mores and refreshments around the fire.
I was apprehensive that it may be buggy, and was thankful this was not the case. With the lake view from up high and trees around us, it was hard not to just relax and want to stay here forever.
The next morning was sunny and a beautiful day. We admired the lake during breakfast before packing up our camper to head home.
I would love to see this view every day. I even inquired about a seasonal site for the first time. I found out the Holiday Park's ownership is unique where many campsites including all the lake view are privately owned and rented when the owners are not visiting. There are also several seasonal sites in the wooded area. This type of ownership allows the campground to be a community and the funds raised from campers to go directly to improvements. It reminded me of The Rolling Hills, a campground my grandparents had partial ownership with a similar community that also featured a lake where I spent many summers making memories.
I captured one more picture of our view before we headed out.
We will definitely be back!