Another great way to explore Sleeping Bear and the glorious views are various hikes in the area. My family enjoys hiking so I knew this would be a perfect vacation activity.
We decided to adventure to the Pyramid Point Trail which is  2.7 mile loop. It features vastly different environments along the trail which includes maple beech forest, high bluffs and a meadow. We were excited to explore.
We started out in the forest and came to a fork in the road.
We  were debating which path to follow when a gentleman approached and asked us if were locals familiar with the trail. Since this was not the case, the gentleman and his dog, Maverick, offered to guide us on the trail that the locals follow since it is considered challenging to navigate.
Following our guide and Maverick, we ascended through the forest quickly to then climb over some dunes and rocky terrain. We did have to be careful to avoid Poison Ivy but luckily there was not too much of it.
We soon emerged on the bluffs for the beginning of the wonderful views. The trail lead to a high, panoramic view of Lake Michigan which is approximately half a mile.
It offers one of the best views of the waters of the Manitou Passage and the Manitou Islands which lie five miles offshore.
We took a selfie shot with the view.
This prompted our guide to offer to take a picture of the family.
The guide took us along the trail a bit further and we continued to enjoy the scenery.
He then described how we would descend the dune and left us to continue on our way.
The area was quite pretty as we hiked along the ledge of the bluffs.
It was hard to stop taking pictures of the view.
Soon we headed towards the dunes we would climb down.
Caterpillars captured on the way.
The top of the dune to descend. Most of us ran down which is easier to do than walk.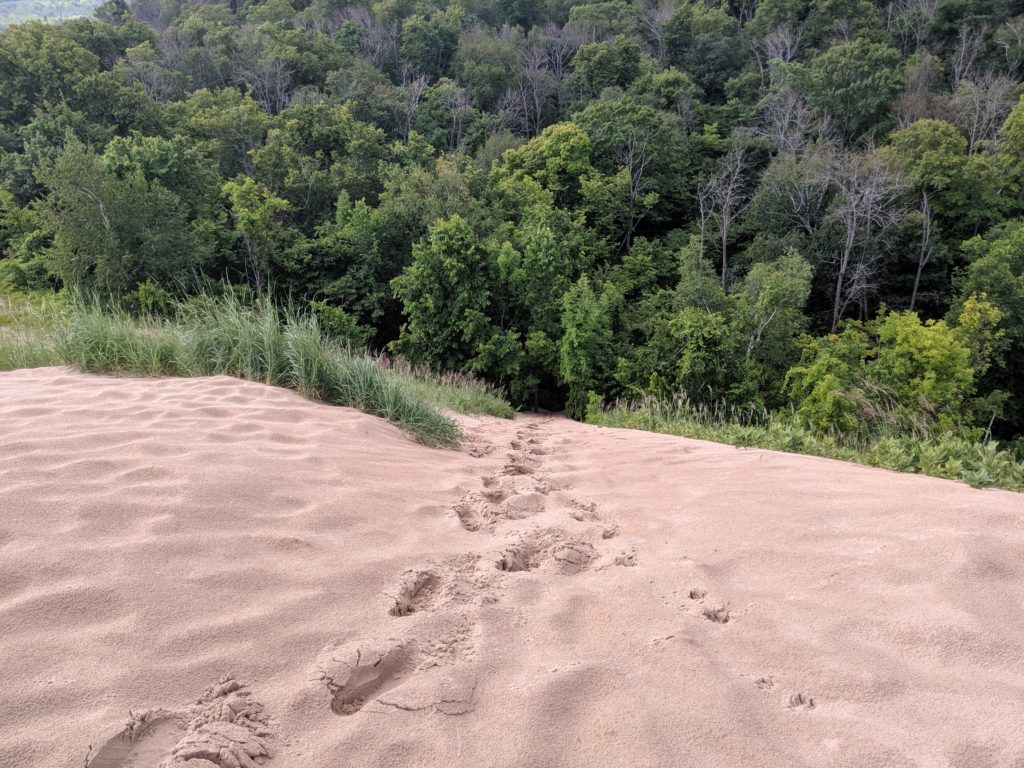 We approached a scenic meadow
It offered a narrow yet distinctive trail to follow
We then entered the beech forest are once again.
We climbed uphill through the trees for about a mile as we headed back towards where our cars were parked.
This was quite a pleasant hike and fun way to see the Sleeping Bear Dunes and Lake Michigan.