For our last day of the family vacation, we adventured to the Old Mission Peninsula Wine Trail in Traverse City. I was super excited for this day as I've wanted to visit these wineries since moving back to Michigan, however, this was our first opportunity since always traveling with our furkids.
It was a beautiful and perfect summer day as we drove through the peninsula. It was only a half hour drive to reach the area from the rental house. We planned to go to the tip of the peninsula first and work our way back down as we visited the wineries.
Our first stop, Chateau Chantel came with rave reviews from my friend, Chuck, and is actually owned by some of his extended family so we were not only excited but full of expectations.
This winery is also a bed and breakfast inn and I'd love to stay overnight in the future. The scenery is truly amazing–it is like being transported to Napa. Having lived in California for many years, I can say that with some authority too.
While inside the interior tasting room, we talked to the friendly staff and viewed the menu. We ordered various flights across our party and Charcuterie boards with assorted goodies that paired with the individual flights.
We wanted to experience our tasting outside and enjoy the beautiful grounds that feature a view of the Grand Traverse Bay.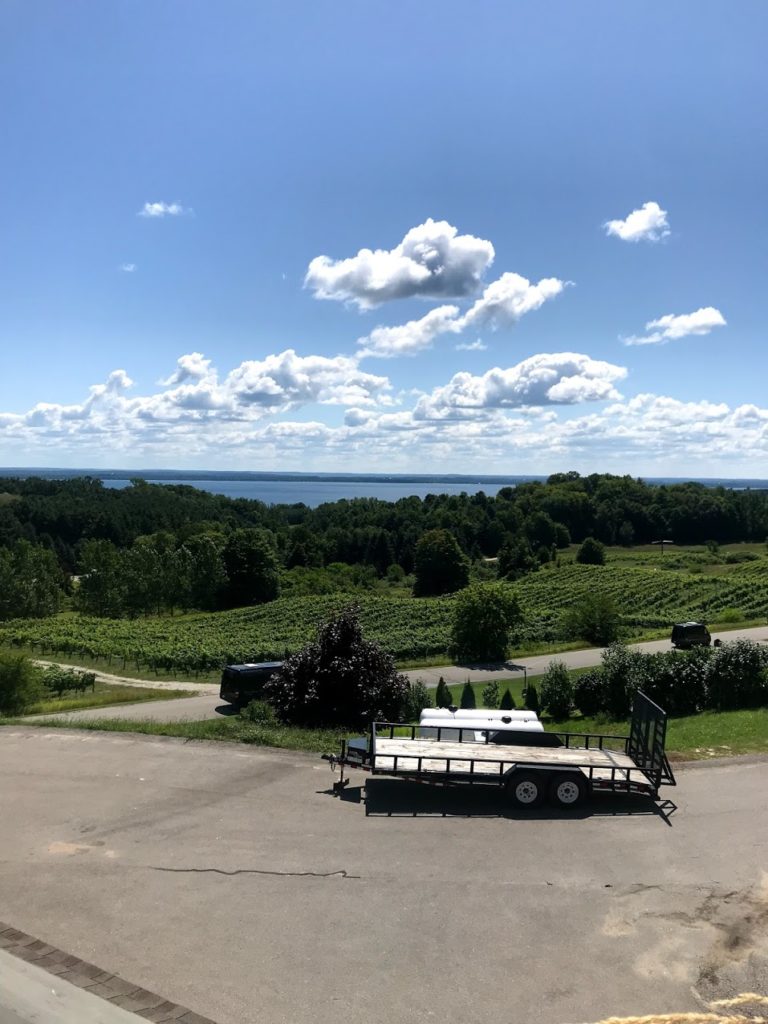 I ordered a bubbly flight which was just delightful. I really enjoyed the selection in the cute Michigan themed glasses.
The meat, cheese and popcorn selections were perfectly paired and just writing about them makes me wish I was there. My favorite wine from this tasting is named Celebrate which is a blend of Riesling, Chardonnay and Gamay–a semi sweet champagne. The semi-sweet popcorn accompaniment was extra tasty with this wine. And for the first time ever, I purchased a bottle from a tasting to take home with me.
While enjoying the scenic patio, we learned that it is dog friendly. Yet another reason to celebrate this winery and visit again with Gucci & Tucker in tow. Before leaving, we browsed the cute gifts and my parents purchased some beautiful dishes to add to their collection. This winery was a charming experience all around.
Next, we visited Bowers Harbor Vineyards and the entrance was full of vines that made it scenic in it's own way.
I loved that you could actually see the vineyard grapes up close.
There was a bit of a crowd inside so we stood in line to approach the bar. While waiting, we admired the photos of the family's vineyard dogs and learned this location was also dog friendly. Many of the wines are named after the vineyard dogs which I just loved. We are planning or next pup to be named Cooper, and this winery has a Cooper white wine named after their Bernese Mountain dog so I had to try it. The wine was little dry for my taste, however, drawn to the name, I truly appreciate how fond this winery is of their canines.
This winery offered several hard ciders as well which I was eager to experience. The Cherry Apple was especially delicious and I almost took a growler home with us.
Our next stop was Chateau Grand Traverse which was quite charming as well.
We sat on the patio to enjoy our wine and Garrin & I shared another Charcuterie board. This one did not seem to be individually paired however it was quite large with a nice assortment that we enjoyed. I was thankful we shared the board due to the size.
Soon, we adventured to Hawthorne Vineyards. We had a BOGO coupon for a tasting from Chateau Chantel so this tasting experience was quite a deal. The shop offered cute treasures and I took a fun "wine" shirt home as a souvenir.
We stopped by another favorite winery on our tour next, Mari Vineyards.
The exterior of this winery made you feel like you were in France.
It was quite breathtaking and also super crowded.
I loved the arch way entrances. This vineyard is over 60 acres.
We waited in line for a while and decided to order a glass of wine versus a tasting.
I also ordered a Brie plate that was quite amazing. We finally found a vacant table outside to stand and dine while enjoying the view.
Next, we visited Boathouse Vineyards where we enjoyed another glass. The inside had a cozy fireplace and outside is a dock and lakeview scenery.
Our last stop for the day was Black Star Farms.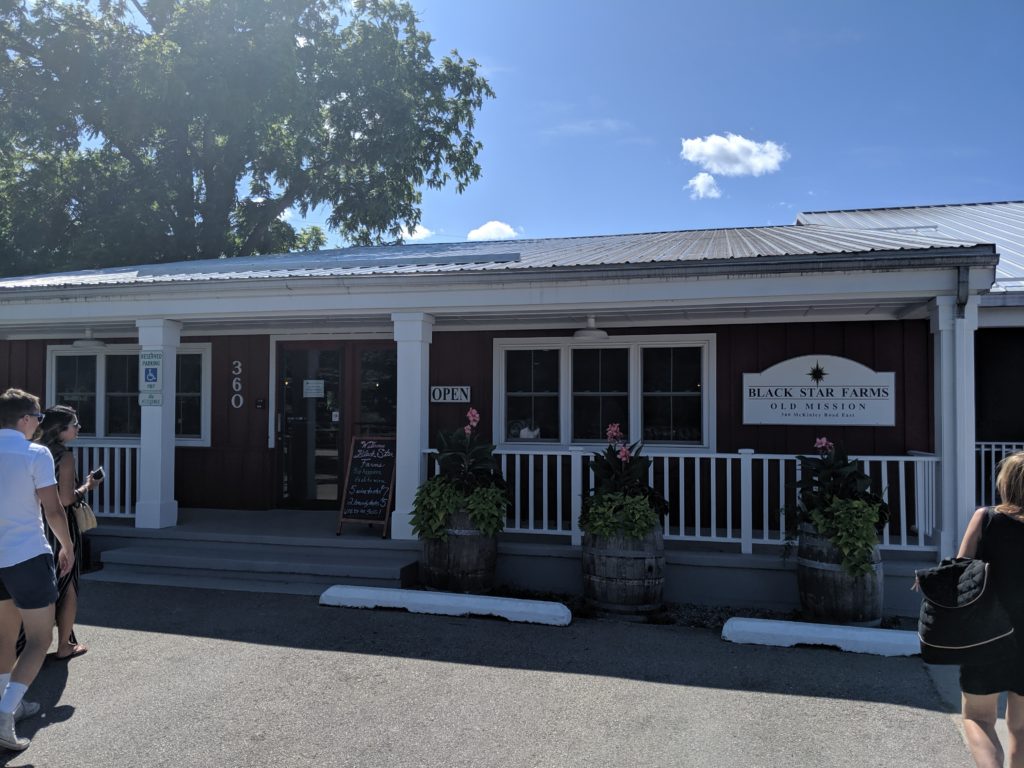 The tasting room showcases a round bar constructed from wine barrels.
We sat on the patio briefly to enjoy our refreshments since a Bachelorette party with reservations for the area had just arrived.
The day was full of good memories, wine and tasty snacks , however it was time to head back to the house to relax . We look forward to returning to Old Mission Peninsula wineries again soon.