We made great memories during our family vacation this summer and I just loved being Up North in the Mitten. I believe there are enough mini adventures and photos captured worthy of another blog post  so here it is. I do hope it will inspire your own adventures in Northern Michigan.
Our mini adventures:
We walked the downtown of Glen Arbor and this quaint town was fun to show the family. Glen Arbor is especially sentimental to me as my husband & I went camping and visited the area back when just dating.
We stopped at the M-22 store which is one of my favorites shops themed after a wonderful scenic road in the area. I enjoyed a special wine tasting specific to this location and purchased a bottle of the Crystal River Sweet Bubbly. I also found a new pink hat as a treasure to take home which I showed off in several previous blog photos like this one in front of Lake Michigan.
After touring the area, Garrin introduced my brother in law, Josh, to Superman ice cream. Several of us stopped at Boonedocks, a local favorite restaurant and pub.
We enjoyed refreshments on the outside patio. I ordered a strawberry daiquiri–my favorite summertime drink.
One of my favorite places to visit is Fishtown. You can read more detail about it on the blog here.
I loved showing the family this town on the water. We visited all the fun shops including Sporck Tile…my dining room wall proudly displays an M-22 tile by this Michigan artist.
We bought fish from the local shop to grill for dinner one night.
We visited Rick's Cafe in Fishtown for lunch the following day. This restaurant was jammed packed and Garrin charmed guests dining to leave us the table by taking a group photo of them before their departure.
One of the things I love about my brother, Greg, and my new sister in law, Michelle, is that they are always up for adventure. Dining at Rick's was no exception as Greg & Michelle were gutsy enough to try the house specialty drink: Chubby Mary. This is a house made Bloody Mary with smoked Chub fish. I have never seen anything quite like it.
And yes, they actually ate the fish and finished the drink! It was described as very salty.
On more than one visit to Leland, we went to Van's Beach to enjoy Lake Michigan.
This is a small but pretty beach that connects to another small beach named South Beach.
One of the things I love about this beach is that it usually uncrowded especially early in the day.
The water is always gorgeous and it is fun to swim and sunbathe here. It was our first dip in Lake Michigan this summer.
We also strolled the beach and looked for Petoskey stones. Garrin found a couple beauties though I have yet to find one myself.
I could watch the waves for hours.
We spent one afternoon exploring Traverse City.
We walked the downtown shops and stopped at a local brewery, 7 Monks Taproom. I tried a Michigan hard cider named Cinnamon Girl by Left Foot Charley for the first time. It is now becoming a favorite of mine as the perfect Fall cider.
We all stopped at the mural and took snapshots.
We relaxed at Cinch Park as it was a beautiful afternoon where my niece, Atarah enjoyed playing in the fountains. We dined at Harrington's By The Bay on the patio with a view of the water and were joined by mother in law, Denise.
On the journey home from Mackinac Island, we stopped to eat at the Bridge Street Tap Room in Charlevoix. I had a tasty Gryo and we listened to the local singing entertainment while we dined.
During our stay at the Leelanau rental house, we also enjoyed walking the downtown and had a delicious brunch at Fig's.
We also really enjoyed the view from town.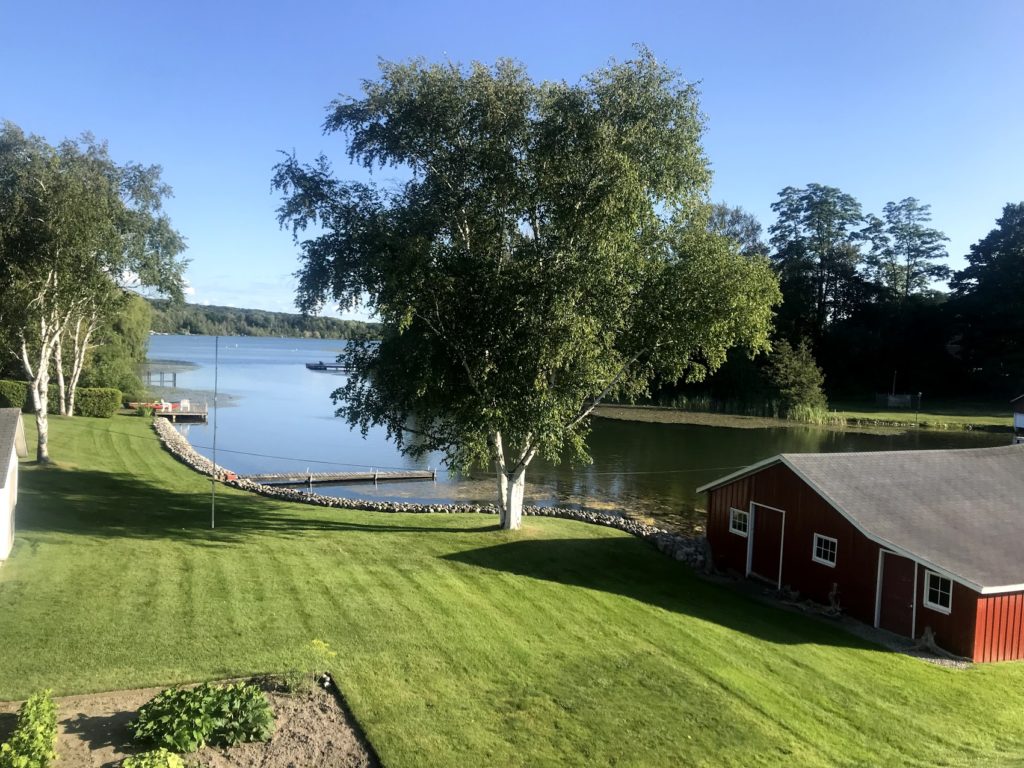 And the best times were often hanging at the house…
As well as sitting around the fire and making s'mores….
Whether adventuring out or staying home we made memories to last a lifetime during our vacation up north.